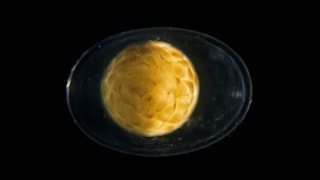 Becoming
Nature is in all of us.
Every time a living cell divides, it's a microscopic miracle. That miracle, multiplied by a million, is what you can see in this short film by Jan van IJken, as he invites us to see a new life in the making: a baby salamander growing inside its own egg.
"I made this film to capture the origin of animal life," Van IJken says. And in watching these earliest moments of life materialise in front of our eyes, we can truly appreciate how universal this process is, shaping each of the 2 million species of animals that inhabit our planet.
"We are a tiny part of the ecosystem. Maybe it's time to change our mind a little bit, not consider ourselves the centre of the world – and be a bit more humble."

Words: Anne-Marie Hoeve

Full article:
https://fivemedia.com/video/we-all-start-this-waylifes-beginning-through-a-microscope/
More about Jan van IJken:
https://www.janvanijken.com/
Documentary