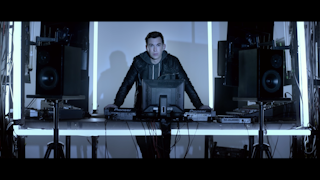 Rock the Road
Rock the Road
#1 DJ Hardwell & racing driver Carmen Jorda compose the ultimate driving track. From tyre data.
A musical marriage, powered by VREDESTEIN.
Music and driving have always been good friends. But premium tyre brand Vredestein finally ties the knot, uniting the two. Yes, today Vredestein launches a unique collaboration between Carmen Jorda, world-class racing driver and DJ Hardwell, the world's #1 DJ. Together they created the ultimate driving track, from technical tyre information. With an accompanying music video, also released today.
To support the launch of their new winter tyre Wintrac xtreme S, Vredestein invited Carmen Jorda to the snowy mountains of Chile. In a fully prepped and rigged car she put the tyres to the test. Meanwhile, a team of technologists measured the tyres' speed, acceleration, braking, sliding, cornering and rotation. Software was used to format this data, and algorithms converted the data into MIDI-files. DJ Hardwell was then able to use these to create his next hit: a special remix of the song United We Are. To be released on Spotify and iTunes. It's the ultimate driving track. Made by turning extraordinary tyres into extraordinary musical instruments.
Check out the track, the music video and the making-of on the campaign platform. And finally, J Walter Thompson Amsterdam would like to take this opportunity to share the following recommendation with you: Rock the Road!
Client: Vredestein
Agnecy: J. Walter Thompson Amsterdam