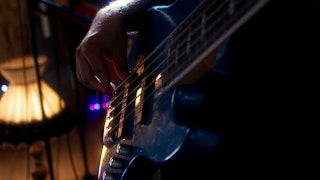 The Heartbeat of NN North Sea Jazz
Commercial
The Heartbeat of NN North Sea Jazz
'The Heartbeat of NN North Sea Jazz' spotlighting the #craft and #passion of talents who form the #backbone of North Sea Jazz festival.

🎸 "My job is to create a foundation for the other musicians." 🎸

The first episode of this miniseries introduces Mees Booden. Skillful #bass #player and Codarts student, whose band called Where's Dillie? is selected to perform at the Codarts Talent Stage this year.



🔊 "If the crowd doesn't notice anything, that means we've done a good job." 🔊

The second episode introduces Natasja Geerdink, audio production manager at Ampco Flashlight. From renowned festivals like LowLands, Vrienden van Amstel Live and 538 koningsdag her expertise in audio production is unmatched. Now, she brings her magic to the NN North Sea Jazz festival, crafting perfect soundscapes for artists, crew and visitors.


🥘 "It's very important to maintain authenticity." 🥘
Part three is a culinary feast as soul-food queen Danitzah Jacobs shares her Afro-Caribbean kitchen experience with visitors at NN North Sea Jazz.


🎨 "Sometimes art has a lot of weight attached to it. But at North Sea Jazz, it's more fun and light." 🎨

Maayke, an artist driven by a passion for women's rights and equality, presents her captivating work at NN North Sea Jazz as part of an exhibition by Rademakers Gallery.



🎷 "Each day and stage must have a certain build up. Where the visitors are stimulated, challenged and at the end of the day think; wow, what a ride this has been!" 🎷


The fifth and final episode we introduces Sander Grande. Key member of the program team responsible for crafting the festivals extraordinary line-up!



Client: Mojo Concerts / NN North Sea Jazz 🎷
Agency: DEPT® Agency

Music: 'Shuffily' by 'Where's Dillie?':
Production: Silas Houtman
Written by: Mees Booden
Arrangement: Rotem Gerad
Drums: Thijmen Molema
Guitar: Gilan Van Camp
Bass: Mees Booden
Tenor sax & solo: Daan Kluwer
Trombone: Rotem Gerad
Trumpet: Thomas Heikoop
Commercial