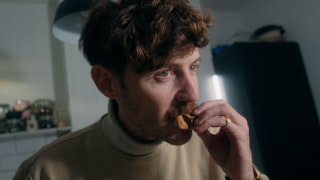 The Moment ft. Brad Vanstone
Documentary
The Moment ft. Brad Vanstone
The cheese lover reimagining vegan cheese
Meet Brad Vanstone, the cheese-loving grandson of a UK dairy farmer, who went vegan for the planet, but couldn't find a tasty plant-based cheese. So he made his own. It's the latest episode in our video series zooming in on 'The Moment' we decide to step up and shape a more sustainable future in whatever way we can.
"People are happy to make alternative decisions in their diet," says Brad Vanstone, as long as they taste good.

He's speaking from experience. Such is his love of cheese that he has a tattoo of it on his arm. And while he found it easy to give up meat and dairy, cheese was a challenge. He just couldn't find any vegan alternatives that he liked. But where some people would stop there, Brad was just getting started.

Find out about the moment Brad Vanstone took a hands-on approach to solving his culinary predicament, in what would grow into his own vegan cheese business: Willicroft. Named after his grandparents' former dairy farm in Devon, it's now Europe's first B Corp plant-based cheese company. And these days, he's even helping local dairy farmers transition to peas – which can then go straight into making more tasty vegan cheese.

Trailer

Willicroft: https://willicroft.com/
Mother Natures CV: https://lnkd.in/eQyVRGxZ
5 Media: https://fivemedia.com/
Full article: https://fivemedia.com/video/the-moment-the-cheese-lover-reimagining-vegan-cheese/
Concept and interview: Anne-Marie Hoeve


Documentary