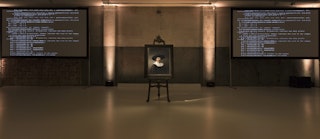 The Next Rembrandt
Documentary
The Next Rembrandt
Can the great master be brought back to create one more painting?

The Next Rembrandt is one of this year's (2016) most talked about artificial intelligence meets creativity projects. A group of art historians, material researchers, data scientists and engineers – led by J. Walter Thompson Amsterdam for client ING and technical partner Microsoft – spent 18 months to take on a controversial challenge: how to teach a machine to think, act and paint like Rembrandt.
The result is The Next Rembrandt - a 3D printed painting, made solely from data of Rembrandt's work. The painting consists of over 148 million pixels and was created using deep learning algorithms and facial recognition techniques, based on 168,263 painting fragments from Rembrandt's oeuvre. Bringing the Master of Light and Shadow back to life to create one more painting. Only this time, data is the painter, and technology the brush.
The painting was unveiled on 5 April 2016 in Amsterdam and immediately caught the zeitgeist, becoming the global trending topic of the launch day - reporting 10 million twitter impressions. Since then The Next Rembrandt has started a global discourse on where data and technology will take us next. And data's new relationship with creativity. How data is now inspiring creativity; how data is now becoming part of ideas.
The project has been reported on globally since launch, with over 1,400 articles and counting, including The Guardian and The Telegraph, NPR, The New Yorker,TechCrunch, Fast Company and the Wall Street Journal, to name but a few. 1.8 billion media impressions have been achieved in the first month after the unveiling of The Next Rembrandt.
Adding to the ongoing global conversation about the meaning for our industry and the future of creativity, the technology developed for The Next Rembrandt will now be used for the restoration of damaged and partially lost masterpieces. In addition, parts of the code will be made open source to benefit future innovations.
After winning a total of sixteen Cannes Lions during the Cannes Lions International Festival of Creativity 2016, including a Grand Prix in both Cyber and Creative Data and the Innovation Lion, the Next Rembrandt represents the new, leading edge role of data in creativity.

Learn more at: https://www.nextrembrandt.com/
Trailer:


Case study:
Client: ING Bank
Agency: J. Walter Thompson Amsterdam - Campaign page

Press coverage:
The Guardian
Wired
BBC
Wall Street Journal


Awards:
2nd Most-Awarded Digital Campaign: Gunn Report 2016
6th Most-Awarded Campaign Across All Media: Gunn Report 2016
Most-Awarded Digital Campaign of 2016: The Directory Big Won Ranking
8th Most-Awarded Campaign of 2016 Across All Categories: The Directory Big Won Ranking

Cannes Lions - Cyber: Grand Prix, Silver Lion, 4 Shortlists
Cannes Lions - Creative Data: Grand Prix, 2 Silver Lions, Bronze Lion, Shortlist
Cannes Lions - Innovation: Innovation Lion
Cannes Lions - Outdoor: 2 Gold Lions
Cannes Lions - Digital Craft: Gold Lion, 2 Bronze Lions, Shortlist
Cannes Lions - Direct: Silver Lions, 2 Shortlists
Cannes Lions - Promo & Activation: Silver Lion
Cannes Lions - Design: Silver Lion
Cannes Lions - Entertainment: Bronze Lion, Shortlist
D&AD - Digital Marketing: Yellow Pencil, Wood Pencil
D&AD - Digital Design: Graphite Pencil
D&AD - Direct: Graphite Pencil
D&AD - Graphic Design: Wood Pencil
One Show - Cross Platform: Gold, Silver
One Show - Print&Outdoor: Gold, Silver
One Show - Interactive: Silver, Bronze
One Show - Direct: Bronze, Merit
One Show - Design: Merit
One Show - Branded Entertainment: Merit
Eurobest - Digital Craft: Grand Prix, Gold
Eurobest - Outdoor: Gold, Silver
Eurobest - Creative Data: Gold, Shortlist
Eurobest - Innovation: Gold
Eurobest - Media: Gold
Eurobest - Promo & Activation: Silver
Eurobest - Film: Shortlist
LIA - Digital: Grand LIA, 3 Golds
LIA - Design: Gold
LIA - The New: Gold, Silver
LIA - Non-Traditional: Bronze
Epica - Digital: Grand Prix, Gold
Epica - Creative Technology: Gold
Epica - Online Campaigns: Gold
Epica - Websites: Silver
Epica - Online & Viral Films: Bronze
Clio - Event/Experiential: Gold
Clio - Out of Home: Bronze
Clio - Events: Bronze
Clio - Film: Shortlist
Clio - Brand Development: Shortlist
Andy Award - Reset/Innovation: Gold
Andy Award - Branded Content: Bronze
FWA: Site of the Day
Awwwards: Site of the Day
WPPED Cream - Digital: Crème de la Crème (Grand Prix)
WPPED Cream - Data Investment Management: Crème de la Crème (Grand Prix)
WPPED Cream - Outdoor: Winner
Luerzer's Archive: Issue 3/2016
ADCN: Grand Prix
ADCN - Digital & Social: Gold
ADCN - Next: Gold
ADCN - Promo, Activation & Direct: Silver
ADCN - Design: Product - Bronze
ADCN - Design: Digital - Bronze
ADCN - Film: Nomination
ADCN - PR: Nomination
ADCN - Media: Nomination
ADCN - Branded Content & Entertainment: Nomination
ADCN - Integrated: Nomination
World Summit Award: Culture & Tourism - Winner
Documentary